Cosmopolitan

Address:

110 Washington Ave


Area:

South Beach


Year Built:

2004


Floors:

8


Price Range:

$2,350-$2,338,000


Status:

Re-Sales




The Cosmopolitan towers include a development and architectural pedigree that includes two renowned names in Groupe Pacific and illustrious Maurice Salazar. Featuring superbly designed pied-a-terre residences in a variety of floor plans, the Cosmopolitan, true to its name, evokes South Beach's internationally sophisticated and continuously stylish atmosphere.

Step inside the Cosmopolitan's lobby and admire at the time, effort and sheer creativity put in by celebrated and award-winning interior designer Tessi Garcia. Also take a moment to admire the dazzling aesthetic water fountains and the flourishingly landscaped courtyard with its own relaxing pool deck area. Elsewhere you'll find an exclusive clubroom and a cutting edge fitness facility.

The Cosmopolitan's 233 residential units come with the choice of one to two bedroom floor plans and the choice of a den in two bedroom units. The wonderfully romantic residence balconies offer exceptional views of South Beach. In the kitchens you'll find high end stainless steel appliances, deluxe granite countertops and cabinetry designed in European style. Bathrooms are equipped with half glass enclosed showers and relaxing whirlpool tubs.

Besides having the enviable luxury of living in South Florida's most exclusive and dynamic city, Cosmopolitan residents also have the benefit of being situated just moments away from the area's most popular and engaging hotspots like Lincoln Road and Ocean Drive. Residents can also take out a boating vessel at the Miami Beach Marina and admire the fabulous South Florida coastline while soaking in its unrivaled sunshine.






Concierge
24-hour security
Valet
Private covered parking
Sublimely landscaped courtyard
Cascading water fountains
Fitness facility
Exclusive clubroom
Pool deck section






One to two bedroom floor plans with the choice of den in two bedroom units
Balconies
Granite kitchen countertops
Stainless steel appliances
Washer and dryer
European style kitchens
Master bath with whirlpool tub
Half glass enclosure shower






Local Products and Services




Loading...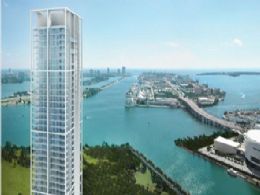 Ten Museum Park Condo
The Ten Museum Park building vividly stands out with its unique crystalline architectural style that ascends brilliantly into the ...
Next
Updated: Saturday, July 23, 2016
Essential 2016 Home Buying Skills
Buying real estate is one of the most complex undertakings of your life. Success is much easier to live with than failure, so decide from the start what "success" means to you in terms of purchasing real estate. Then, be prepared to learn everything necessary to achieve it.
Savvy buyers take two approaches when preparing to excel at buying real estate, especially in hot markets and sought-after neighborhoods:
1. Buyers learn as much as they can about the legal, financial, and decision-making aspects of purchasing; and
2. Buyers leverage the >
Among the practical real estate abilities that give buyers the edge during hot real estate markets, regardless of price point, are two essential buying skills: 1. Million-dollar True-Value Validation; 2. Revved Up Decision Making.
Skill 1. Million-dollar True-Value Validation
For years, "million dollar" was the "Big Deal" label for homes and everything else. Now, its no big deal. Million-dollar homes are commonplace. In neighborhoods full of multi-million-dollar houses, these homes are the "cheapies." For instance, San Francisco has been overrun with million-dollar homes[]an increase of almost 40 since 2012, according to Trulia.
In many cases, this increase in price has not been earned by improvements in architectural design and construction quality. Paying more for less is the really significant aspect of the price-inflation trend. Dont be impressed by 6- or 7-figure-numbers. Be impressed by true value[]location and the quality of design and construction. The more that buyers understand about how location influences local real estate value and how to identify quality construction and building design, the more likely it will be that their 2016 purchase retains its value and appreciates over time.
Skill 2. Revved Up Decision Making
The "Days on Market" statistic for listings was originally an indicator that a listing had problems, in one way or other. High demand and low listing inventories can drive "Days on Market" down and drive up selling price. Buyers benefit from investing time in learning strategies for beating out other offers, instead of just "hoping we get it."
Each buyer or buyer couple will only experience the emotionally-draining roller-coaster contest of multiple offers once if their offer is accepted or a few times until their offer is accepted or they give up. They may not fully understand what is going on, especially since everything may move very quickly and buyers are not directly involved in most of the negotiation.
So who do you think is best equipped to "win" the multiple offer contest? No contest here. Real estate professionals are emotionally-detached negotiators who earn their living successfully negotiating multiple-offers, week in and week out, during hot markets.
When buyers know they are facing the possibility or probability of multiple offers, they will benefit from learning exactly what that means. Select an experienced real estate professional who is an area authority and who has a proven track record of helping client buyers achieve their goals. Ask the professional for details on past multiple offer situations and take notes. Which strategies are there? How do you decide which strategy to use? What are all the common mistakes buyers make? Buyers benefit from understanding the entire buying process before they plunge in and begin viewing properties.
Beyond Price
Purchase price is only one feature of an offer to buy real estate. For instance, closing date, what is included in the purchase, conditions on purchase, financial ability to close, how well sellers >
Bonus: Earned Trust
To backtrack a bit, if buyers do not have complete trust in the expertise of the real estate professional they choose, they are both in trouble. Could you plunge in and agree to significant additional increases in purchase price or dramatic changes in closing date if you did not have full confidence in the professional representing you? Would you listen to suggestions to continue with negotiations or to step away from the property?
When you want to achieve your goals in spite of multiple-offer contests, begin by being sure about your fit with the professional youve chosen to help you become sure about location and value. Then study the multiple offer process to be mentally prepared and financially ready to take steps you can live with and to avoid disappointments you do not want to live with. Then, go looking for that dream home.
> Full Story
The case First American Title Co. v. Tanisha Zapata et al. was filed May 16 of this year. There is a long list of defendants [collectively, "The Fraudsters"] along with 100 John Does. Many of them are business entities in the Peoples Republic of China. We should probably not expect their representatives to show up in Los Angeles Superior Court. Included in the list of defendants are a real estate agent Mark and a Southern California real estate firm Realty. The plaintiff, First American Title Company FATC is suing in >
According to the complaint, the >
The complaint goes on, "Although unknown by FATC at the time the funds were wired, FATC is now informed and believes that the email instruction was not from Mark and was not genuine because on March 18, 2016, FATC was informed by the listing agent, Mark, that the sellers, VU, had not received the sales proceeds via wire transfer as directed. The sellers, Vu, filed a police report with the Glendale Police Department."
Subsequent investigation has shown that the registered agent of TZ is located in Florida. During the period March 16 -- March 18, 2016, 5 other money transfers, totaling 487,500, went into the account of TZ and were then credited to various accounts in the Peoples Republic of China..
Somehow, FATC was able to recover 186,380 of the amount it had thought it was sending to Vu. That reduced the total loss to 327,328.45. Vu has assigned to FATC all claims arising out of the transaction and events as described. Thus this suit.
Naturally, the primary causes of action -- fraud, conspiracy, unjust enrichment, etc. -- are against the Fraudsters and the John Does. Good luck finding them. But there are also causes of action against the real estate agents and the firms involved. And what might those charges be? Negligence and violation of California Civil Code 1798.81.5.In short, Mark and his company are charged for failing to "implement and maintain reasonable security procedures and practices to protect the personal information of Vu from an unauthorized access, use, modification, or disclosure."
Now, we know that anyone can sue anyone for just about anything. And, at this point, we dont know if there really is anything to this suit. We certainly dont know if FATC followed any industry practices to verify the last-minute instructions they received. But we do know that getting named in a suit is -- even if subsequently dismissed -- the beginning of a series of events that no one calls fun.
Best advice: as early as possible in a transaction, try to ensure that all parties are on board as to precautionary procedures when it comes to wiring instructions.
Also See:
Wire Fraud Advisory Will Provide Much Needed Warning
Bob Hunt is a director of the California Association of Realtors. He is the author of Real Estate the Ethical Way. His email address is .
> Full Story
6 Ways To Get A Head Start On 2017 Home Trends
Looking to remodel, renovate, or design a new home? You probably want to make sure youre on the forefront of modern trends. These 6 items and features will give you a head start on 2017, ensuring that your home is the chicest one on the block.
1. Bar carts
Metal, wood, glass, acrylic, painted, gilded, square, round, on wheels and offbar cars come in so many options its head-spinning. You can find one to match any >
But one thing is certain: theyre hot Elle Dcor calls bar carts "practical, portable, and eminently stylish pieces that are sure to get the party rolling." And we agree

Decoist
2. Playful and passionate pink
Pink has made it out of the girls bedroom. Trends for 2017 are showing shocking swaths of pink as wall color, on furniture pieces, and as stylish accessories. A few licks of this bright, happy hue can instantly update a space and make it feel fun, fresh, and fabulous.

Pinterest
3. Mixed Metals
We havent seen the end of the metal trend, but a few new twists are making metal feel even fresher now. "
"Were seeing brass and gold still, but also polished nickel and silver coming back, and theres a new metal finish - white plaster," said designer Marie Flanigan in Houstonia magazine. As a >

Houstonia
4. Luxury appliances
Kitchens today are increasingly combining sleek surfaces with commercial functionality, and that trend isnt ending anytime soon. If youre building or remodeling, some emphasis in this area will not only give you an upscale, modern look, but also make the home desirable to buyers when you go to sell.
One to watch: The True 42 refrigerator from commercial appliance manufacturer True Residential. From their new luxury home line, this fridge brings a restaurant look in stainless steel or slate pearl "with an automotive-grade paint application that raises the bar on traditional kitchen appliance offerings," said A Light Reflection.
5. The return of cork
Over the look of reclaimed wood on the walls? Take it up a notch, with cork.
"Cork is making a comeback Cork adds warmth and texture to any home, its also a great way to absorb noise in luxurious open plan homes," said Barry Estates.

Pinterest
6. Deep, rich colors
Not a fan of those light pastels that Pantone chose as the colors of the year? Go dark. But instead of the blue hues weve been seeing for a few years, veer next door on the color wheel.
Photo by erin williamson - Search eclectic living room pictures
"2017 is the year we wave goodbye to navy blues and midnights, because dark shades of green are one of the hottest new trends to come," said Barry Estates. "Dark greens add depth when used as accent pieces, especially among tan leather, brass and natural linens."
> Full Story
More Real Estate News