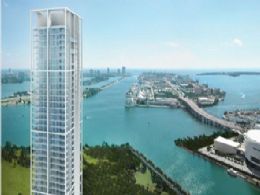 Ten Museum Park Condo
The Ten Museum Park building vividly stands out with its unique crystalline architectural style that ascends brilliantly into the ...
Next
Updated: Friday, November 28, 2014
Homeowner associations have a unique opportunity to reverse or moderate these attacks on Americas traditional values and liberties. As private organizations, they have the right and flexibility to decide how issues of faith expression are dealt with and avoid the nonsense of political correctness.
While HOAs cant enact rules and regulations that contradict the Bill of Rights, they do have some latitude on how these rights are played out. Free speech can be restricted on private property. One example that comes to mind is limiting personal signs in the common area. In other words, the fact that America enjoys free speech doesnt entitle a citizen to crash a private party to express it. So it is with signs. HOAs can control or restrict signs in the common area if thats what the members want.
When it comes to >
>. HOA clubhouses are usually made available for private use by members and residents. If a resident wants to host a poker party, a quilting club or High Mass, they are all legal activities in every state of the country and, as such, the HOA should not have a policy restricting the activity.
The HOA is not obligated to allow private use of the clubhouse but since most clubhouses are ra>
Restricting Outside Groups. The HOA may have a restriction that limits use to residents and their guests and preclude outside groups from using the facility if no resident is involved. If outside groups are not allowed, the ban needs to extend to all of them.
Limiting Access to Schedule. There may be limitations placed on requests to monopolize the clubhouse schedule for a set time each week.
Limited to Legal Purpose. Use activity can be limited to those that are lawful and do not disturb the community noise, smell, lighting, etc..
Charging a Fee. The HOA can invoke a reasonable fee for private use since use creates wear and tear on the facilities.
Christmas Ornaments. Another controversial topic that comes up is whether the HOA should allow Christmas ornaments to be displayed. There seems to be an impression that all ornaments should be forbidden. The real answer is "yes and no": Its really up to the members to decide and that decision only should impact the general common area. If decorating the common area with Christmas decorations is something most of the residents feel appropriate, so be it. HOAs are private property controlled by democratic vote. Not everyone will get their way.
Demonstrations of >
For more innovative homeowner association management strategies, subscribe to www.Regenesis.net.
> Full Story
Ten Essential Steps to Buying a Home
Youre ready to take the leap and buy a home. If this is your first time, you may want to know what to do to make the process go more smoothly. Here are ten steps youll be going through to buy your next home.
Check Your Credit Reports and Scores - You get one free look at your credit reports annually. Go to AnnualCreditReport.com and see how easy it is to get credit reports from the three major credit bureaus, Experian, Transunion, and Equifax. Youll need all three because they each report differently, so you may find an error at one bureau but not the other two. You dont know which credit bureau your lender will use so you want all three bureau reports to be accurate. If you see a mistake, contact the bureau and alert them to the error. Send a copy of your proof, such as the paid balance.
Get prequalified - Your lender will "run your credit" to look at your credit reports and evaluate you for risk. Your income, credit scores, payment history, revolving debts, obligations such as child support as well as the type of loan you choose are all factors in determining your interest rate and other terms of the loan. The lender will also consider how much home you can buy based on your down payment; smaller down payments mean higher monthly payments. Last, the interest rate and terms 30-year, fixed or adjustable rate will determine what you can afford in monthly payments.
Make your wish list - Decide where you want to live and how many bedrooms and baths youll need. Consider life>
Hire a real estate professional - Your real estate professional should be expert in the area where you want to live and familiar with the type of home you want to buy. Your agent has house-by-house experience in your neighborhood and can offer the best advice on homes in your range. Ask for referrals from people you know who have recently bought or sold a home or choose an agent in the neighborhood who is less than five minutes from the neighborhood you want.
Select your home - No home is perfect, so expect to find a few things that are disappointing. Try to see past minor flaws such as bad paint colors or old carpet. Think long-term. Is this the house you would want if it were painted and recarpeted? Which home best suits the activities and needs of your household now and in the years ahead? Dont buy more than you need or can comfortably afford.
Make an offer - Youre either in a buyers market or a sellers market, so your offer depends on the current market conditions. If a home has been on the market a long time, you can ask the seller for a price reduction, repair concessions, and help with closing costs, but if its new on the market, the seller is unlikely to accept an offer lower than 95 to 97 percent of the asking price. Ask your real estate professional for advice and a CMA so you can determine a fair offer price. Be sure to make your offer contingent on a satisfactory inspection.
Get an inspection - A home inspection is a professional third-party opinion of the homes condition. The inspector works for you, so it is his job to point out problems big and small. He will check age of all systems, note large and small repairs that are needed, code violations, and so on. Some inspections are not included, so you will have to hire a separate experts to look for pests, or inspect the septic tank. You need to know what problems and expenses youll be facing as the next owner.
Renegotiate Terms - If the inspection reveals a problem that is more severe or is not noted on the sellers disclosure of the property, you should renegotiate terms. Either ask the seller to fix the problem or ask for a price reduction if you prefer to fix it yourself.
Get an appraisal - The bank appraisal determines market value. If the home doesnt appraise for the purchase price, the bank will refuse to make the loan unless you increase the size of your down payment or renegotiate a lower price with the seller. If the home meets the appraisal comparables, the lender will move toward closing. Pay close attention to the comparables that the appraisal uses -- they may skew the value in a different direction than you might be expecting.
Go to closing - Once final negotiations are complete, and youve done a final walk-through of the property to make sure all repairs have been made, the parties to the transaction meet at the escrow office. This office could be a title company, real estate attorney, or whatever is customary in your area. All paperwork is signed by both parties. The lender pays the seller, minus any liens against the home such as the sellers mortgage. Once all the disbursements have been made, you get the keys to your new home, according to your agreement.
Congratulations Youre ready to move into your new home.
> Full Story
Holiday Hostess Gifts That Will Get You Invited Back Again Next Year
Whether its Friends giving with your neighbors or an extended stay with your in-laws over the holidays, showing up empty-handed is a bigger faux pas than forgetting to thaw the turkey. You dont want to end up on the uninvited list nor do you want to be the one asked to make Aunt Bettys labor-intensive apple-sausage-toasted-cornbread-chop-vegetables-for-two-hours stuffing.
The answer? A great hostess gift. Here are 11 options that will get you invited back again and again.
1. A game to liven up the crowd. Depending on the room, this can be a family-friendly choice like the always dependable Pictionary or the new >
2. If youre going to a party or gathering where you dont know everyone, bring an instant icebreaker like Table Topics box. It holds a stack of 135 conversation starters to get guests thinking and talking. 25 from Uncommon Goods.
3. Get your movie on with a holiday themed-collection like the DreamWorks Holiday Collection featuring Shrek the Halls, the Peanuts Holiday Collections.
4. Forget that store-bought package of cookies. Pack up a few mason jars with your favorite holiday baking recipes get some ideas here if you dont have your own. This personal, thoughtful gift has a part two, which is that you get to cook together, and then enjoy the fruits of your labor
5. Create homemade ornaments together. Hit your local craft store and buy a box of plastic ornaments in bulk. The load up on paint, pens, glitter, or whatever grabs your attention. The kids will love making their own ornaments and itll keep them busy for awhile so the adults can drink, we mean cook. Get some more ideas here.
6. You can never go wrong with a collection of nicely scented hand soaps. You can find unique versions everywhere look in the area near the checkout line at Marshalls or craft stores like Michaels. We especially love the holiday themed and scented soaps at Bath amp; Body Works. Set of five for 18.
7. If this is a yearly event and home cooking is involved and youre not adverse to spending a little, think about bringing a nice copper pot and adding a new piece to the collection every year. Mauviel copper sugar pot, 150 at Williams-Sonoma.
8. Pull off the same idea without the expense by giving unique collectable salt and pepper shakers or a new collection of gourmet spices each year. Start with this artisan salt sampler. 26.95 from Saltworks.
9. When it comes to hostess gifts, nothings better than the combination of pretty and utilitarian. These agate coasters fit the bill with semi-precious agate that create pieces of art for your tabletop. 48 from Robyn Nola.
10. Who doesnt need a neon yellow teapot? You can be sure your hosts will think of you every time they use it. 14.95 from CB2.
11. Fancy up your hosts bar cart with this monogrammed cocktail shaker. Its a step beyond a bottle of wine. Add this Little Black Book of Cocktails and get ready for a fun night. 23 from Pottery barn; monogramming extra.
> Full Story
More Real Estate News